It should be noted that I am a terrible photo taker so none of these images are mine, I believe I linked or sources to creators. The nice thing is... lots of people have taken great photos, far better than I could have, so really, it is a win for everyone.
Friday Mr. Logo and I headed to Orcas Island to celebrate 24 years of marriage. Although the actual day is Monday, we decided to celebrate a little early when we both had time off.
Have I mentioned I have a job?
I have a job.
Mr. Logo has accepted a position that required long commuting hours and I now work part-time for the education outreach department of the UW Libraries.
Also, the weather was outstanding.
So, Mr. Logo offered to take me away and I wholeheartedly agreed.
We went to Orcas Island on our 10th anniversary and stayed in a cute little bed and breakfast in Olga. We did a biplane ride, and ate at the Inn at Deer Harbor and did some kayaking. We did not see Orcas but we saw other cool sea life. Orcas Island tour services often offer a whale guarantee- see whales or your money back (or your next trip free). There are
transient and residential orcas
that hang out in the area so the island is aptly named.
One of the great things about riding motorcycles is that we get head of line privileges at the ferry. I really like that. We go to the front of the boat and get off first... usually. In this case there were a TONS of noisy, obnoxious ill-behaved children on the ferry that walked on to go to a camp on the island. They got off first and the camp had buses waiting for them. The entire ride was a bit of a misery and the ferry workers even had to announce, mid-crossing, that running, climbing on tables, etc. was not permitted. The views were still spectacular but it did make me want to smack some parents around.
There is a guy who used to roll his piano onto the ferry and play it on the passenger deck. He would sell his CDs and accept tips. Here is one of his songs that always makes me think of sailing up
the Straits
. The noise he makes is so much better than the soundtrack we actually had with us.
Ferry dock on Orcas
It was a relief to disembark and get moving down the gorgeous twisty roads. We stayed in a bed and breakfast which was lovely and set on a working farm with deer and sheep, plums, apples, geese, ducks, and a cutie pie of a highland terrier. The lady who runs the place is a pistol and an amazing cook. We very much enjoyed breakfast both days and place is just great. I would definitely visit again. The bathroom had a claw foot tub, which I just love.
The first night we slept with the door to our balcony open and enjoyed the breeze and the stars, oh... but first, let me tell you about...
Turtleback Farm Inn

dinner. The New Leaf sources much of their menu locally, which makes me happy. We really enjoyed every single thing we tasted and left wishing we could have eaten even more... but we would have made a terrible mess when we exploded.


New Leaf Cafe- dinner Friday night
| | | | |
| --- | --- | --- | --- |
| The next morning, after a yummy breakfast we headed back to Eastsound for the Farmer's Market, which was awesome! | | | |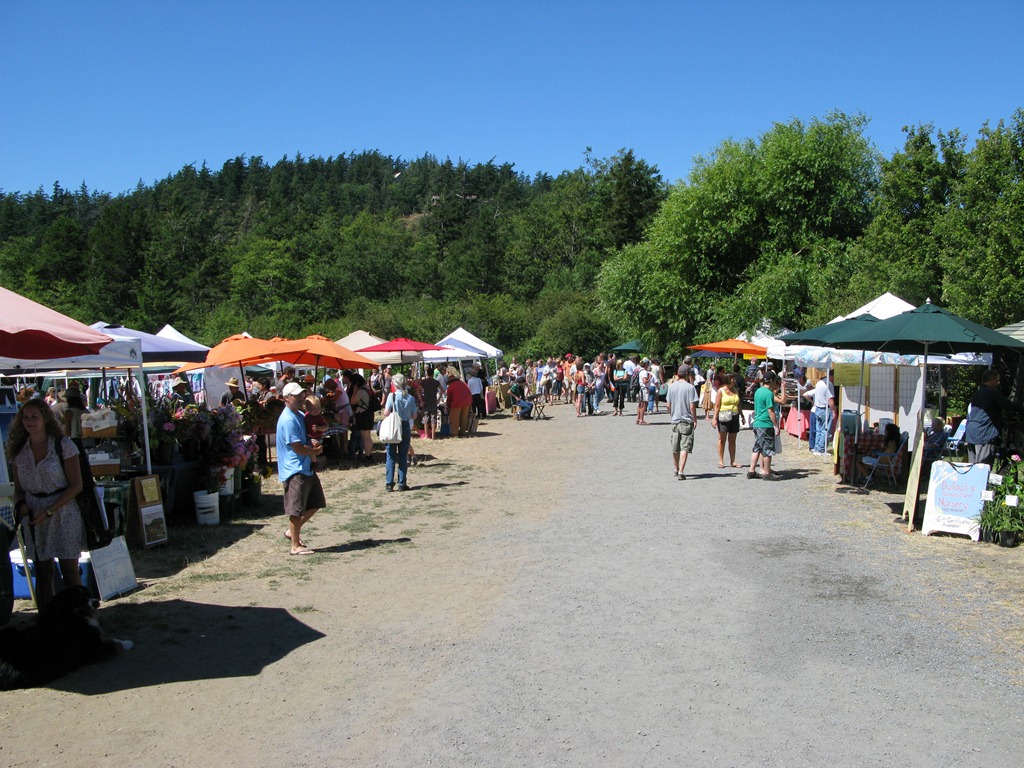 Saturday Farmer's Market in Eastsound, Orcas Island
Mr. Logo found stuff, I found stuff, all the food we tried was super delish and we wore ourselves out walking and walking and walking and walking.
Oh, and I got a jacket, which I will model and post some other time.
After all that walking and shopping we were exhausted.
We had to get a nap before we were ready to head back out for a ride and then to try some dinner.
White Horse Pub- dinner Saturday night




The pub we tried was rocking an Irish theme, so I had a Guinness and we had Irish spring rolls- surprisingly good and not at all vile. Mr. Logo tried the Irish Stew, which he said was good, and I had a Guinness chicken sandwich, which was lovely.
view from White Horse Pub
However, not as lovely as the view. We were sitting by the windows and watched the sun set turn the sky blue and pink which reflected in the water and was just.... aaaaaah, amazing. There is a unique and amazing quality to the islands, I remember enjoying it last time we were there and when I've visited Friday Harbor as well. It was nice to see that time and growth haven't eradicated that feeling.
So, Sunday morning we got up and had an outstanding breakfast before heading out to do some more riding around the island. It is an incredibly beautiful place.
I definitely need to go back, and not wait quite so long to do so.
We managed, of course, to time our return to coincide with that of the horrible monster children we shared the ferry with upon our arrival. However, we had stopped by the food coop and gotten healthy, yummy snacks and adult beverages and that made it all seem more manageable, plus the kids seemed a little less high-strung.
The bike ride home included one last stop for
ice cream
, immodest ice cream cones even.
So, that was that and now it's back to the grindstone. Hi ho, hi ho...